Description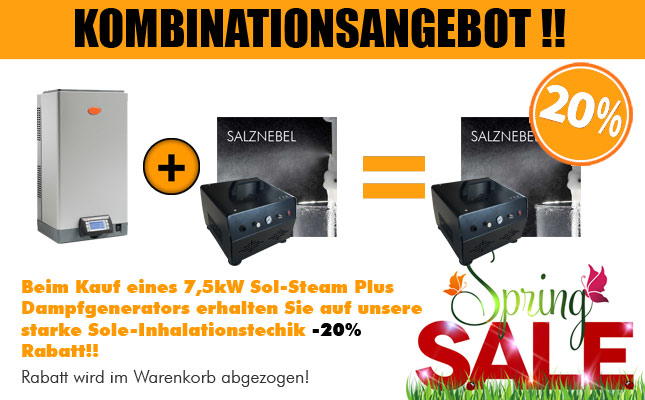 Steam generator SOL-Steam PLUS – the perfect choice for private and commercial steam baths

The steam humidifier SOL-Steam PLUS is for small cabin or larger steam baths. Whether commercial steam baths or private steam baths and steam showers, with normal heating rod technology or with high-quality electrode technology (electrode steam generator). We deliver the suitable steam generator for your steam bath!
Whether high-end device with electrode technology or a low-budget device for smaller cabins – we deliver the right steam humidifier for your project.
But you will not only get the equipment from us – you can also order the complete steam cabin (SPA modules or also with assembly of the complete cabin) from us. For many years we have been a steam bath producer and for many years we only produce steam baths in any desired form
The steam generator SOL-Steam PLUS is a development of many years of experience in the field of electronic control technology: ease of use, control precision, reliable electronics, sophisticated, complete control software and high performance.
The wide range of SOL Steam submersible humidifiers includes models from 1.5 to 130 kg / h.
All models are not available in our shop – please contact us for larger steam capacities.
Technical specifications
W x D x H = 365 x 275 x 712mm
Weight: 13.5kg
Voltage: 380V
Steam connection: Dm30mm
Vapor pressure: 0 … 1300 Pa
delivery
The steam generator SOL-Steam PLUS includes a required connection set with ~ 0.5m steam hose and connecting elements and the sensor with 6m cable length!
Connecting lines (water inlet, water drain and steam line) and the steam nozzle (as there are several) are not included
Steam generator SOL-Steam PLUS connection diagram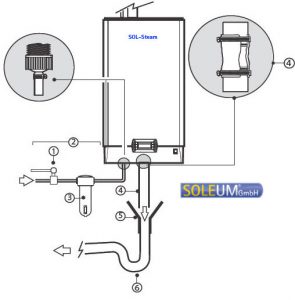 1. Install a manual valve (for interrupting the feed water supply) above the system.

2.Connect the steam generator to the feedwater line.
In the models SOL-Steam PLUS-05 SOL-Steam PLUS-18 use a hose with 3/4 "G-connections (see also the operating instructions of the device).

3. Install a mechanical filter to retain any solid contaminants (install below the faucet).

4. Connect an electrically non-conductive blowdown connector (heat resistant to 100 ° C (212 ° F) and with 40 mm (1.6 in) minimum inside diameter).

5. Insert a funnel to stop the drain pipe.

6. Connect a siphon to prevent odor (40 mm (1.6 in.) Minimum inside diameter).
 

Startup videos – how to perform the initial configuration: